Etsy is a global marketplace for unique handmade and vintage goods. From 2012-2016, I worked as a Senior Designer on their in-house Brand Design Studio—a small (at the time) and highly creative team split between Brooklyn and Berlin.

Our work spanned from internal initiatives, to in-person events, seasonal campaigns, and everything in-between. During my time at the company, Etsy was awarded the National Design Award in 2014, and went public in 2015.

---
Etsy Internal

Etsy's brand and values were displayed across all internal applications—incorporating tactility and warmth wherever possible. Some examples include Etsy stationery, internal swag, seller giveaways, and laser-cut conference room signage (with a naming system combining food and bands).


---
Etsy Holiday Campaign 2014

For Etsy's global 2014 holiday campaign, shoppers were encouraged to "Unwrap Etsy" through printed and digital advertisements, social media assets, physical pop-ups and gift-wrapping stations available at select Etsy events.

Gift ideas and holiday wrapping paper available on Etsy.com were showcased throughout the campaign in a modular, flexible system. In-person events included illustrated wrapping paper by Jing Wei and customizable gift tags.
CREDITS

Creative Direction: Julia Hoffmann
Art Direction: Daniel Dittmar
Project Management: Eva Green
Design: Melissa Deckert
Illustration: Jing Wei
Gift Box Photography: Aaron Cameron Muntz
Copy: Wynne Renz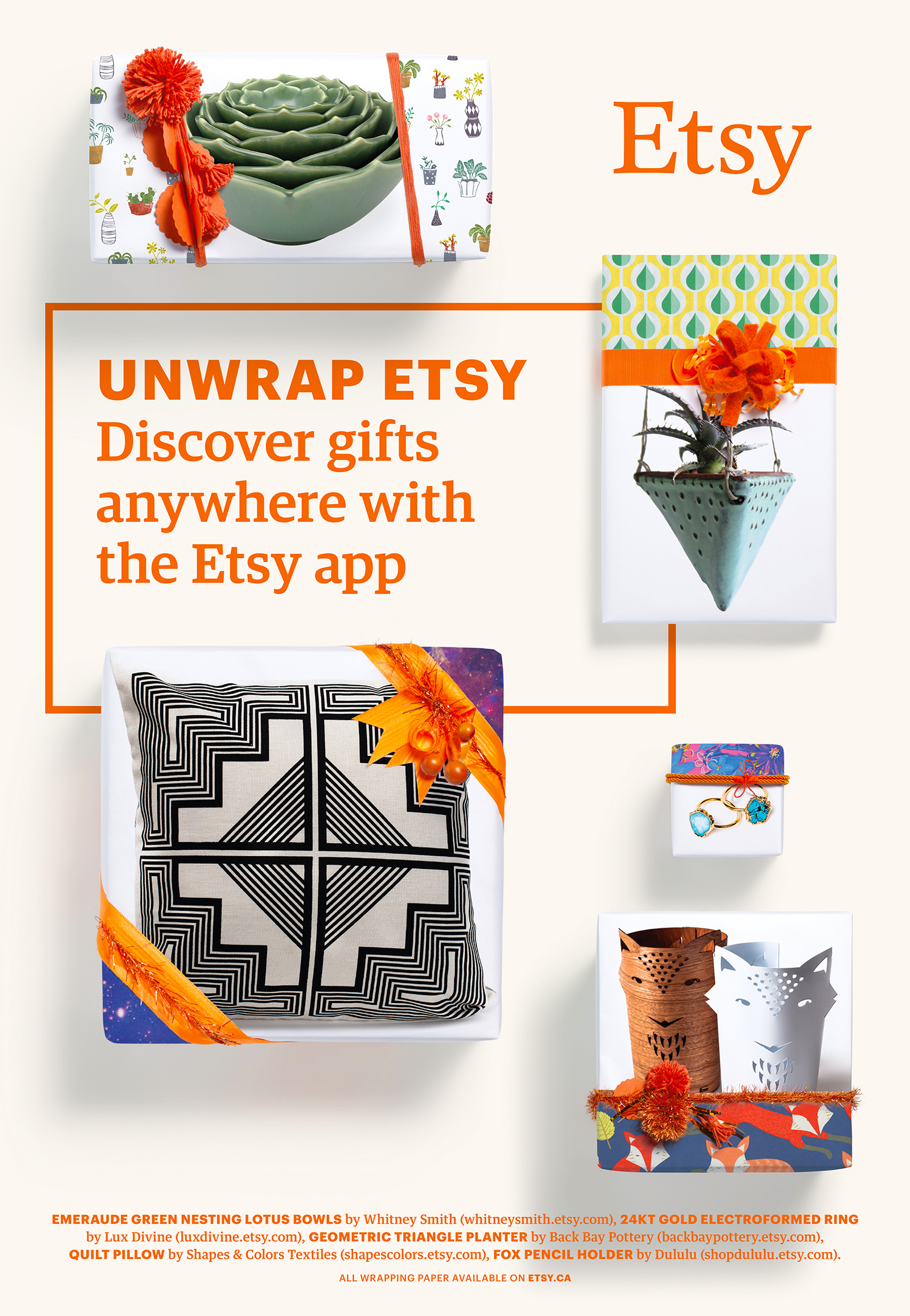 ---
Etsy Valentine's Campaign 2014

Etsy's 2014 Valentine's Campaign threaded the overarching message "Say I love you with Etsy," through multiple subway ads for the Canadian market. Each scene was inspired by various methods of making, enhanced by a unique line referencing the process.
CREDITS

Creative Direction: Julia Hoffmann
Art Direction: Daniel Dittmar
Project Management: Eva Green
Copy: Paul Caiozzo & Nathan Frank
Design: Melissa Deckert
Set Design: Melissa Deckert & Nicole Licht
Photography: Henry Hargreaves

---
Etsy Holiday Campaign 2013

Etsy sellers were encouraged to "break new ground"—both creatively and as business owners—during the holiday season for our 2013 seller-facing holiday campaign. This message was communicated across multiple deliverables including online educational materials, Scout Book notebooks, a letterpress and gold foil 2014 calendar, thank you cards, and a large scale mural for Etsy's pavillion at the Javitz Center.
CREDITS

Creative Direction: Randy J. Hunt
Art Direction: Jeremy Perez-Cruz
Project Management: Ashley Dawn Edwards
Design: Melissa Deckert & Nicole Licht
Prop Styling: Melissa Deckert & Nicole Licht
Copy: Wynne Renz
Photography: Aaron Cameron Muntz
Vinyl Letterforms: Big Secret Lasercutting